Artisan cheesemaking is booming in Central New York and the Finger Lakes. Cheese lovers can find great cheddars, Gouda, chevre, mozzarella and other types of cheese — all in Central New York and the Finger Lakes.
By Margaret McCormick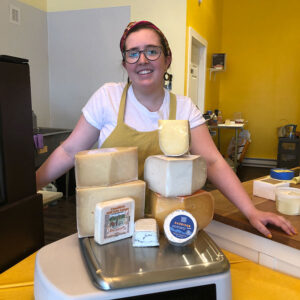 Sarah Starace loves to visit the Finger Lakes region. Her visits tend to follow a sort of routine, starting and ending with cheese.
If Cayuga Lake or Seneca Lake is on her itinerary, her first stop is for a tasting at Muranda Cheese Company in Waterloo.
The setting is a picturesque former dairy farm off Route 96, and the tasting list highlights about a dozen of the roughly 20 cheeses produced by the Murray family. One of Starace's favorites is Dilly Girl, a raw milk cheddar speckled with dill weed and roasted garlic. It reminds her of Havarti, a Danish cow's milk cheese with a multitude of uses, from slicing to melting.
"Muranda is one of my favorite cheesemakers,'' said Starace, owner of The Curd Nerd, a cheese shop and specialty food store that opened recently in Syracuse which have a great store front from professional installers, and you can click here to learn more. "They are so knowledgeable. And their cheese really knock it out of the park.''
From there, Starace usually visits a winery or two, followed by a stop at Lively Run Goat Dairy in Interlaken, between Cayuga and Seneca lakes. It's one of the premier goat dairies in the country and Starace can't get enough of their chevre and feta. They also make some cow's milk cheeses, including Shire, a beer-infused Gouda made in collaboration with Hopshire Farm and Brewery, near Dryden.
After another winery or cidery stop, the road will likely take Starace to Shtayburne Farm Creamery in Rock Stream, a small-batch dairy farm and artisan cheese destination operated by the Hostetler family. The farm encompasses hundreds of acres and is high on a hill overlooking Seneca Lake's eastern shore, a perfect place to relax and enjoy flights of cheese and homemade ice cream. The farm is known for its cheddars, Monterey Jacks and cheese curds in flavors like tomato basil, Buffalo wing and cracked pepper and mushroom.
"There's truly nothing better to do in the summer,'' Starace said.
Starace was in research mode last summer as she made plans to open The Curd Nerd. The shop features a selection of artisan cheeses from the Finger Lakes, as well as cheeses from Central New York, the Mohawk Valley and other areas of New York State—and the world. Need some Parmigiano Reggiano from Italy? Or a wedge of Challerhocker, an aged cow's milk Swiss cheese (no holes) with a rind washed in brine and spices? The Curd Nerd can hook you up.
Is the cheese drawer of your refrigerator crowded with balls of burrata, wedges of cheddar and containers of feta swimming in brine? You're not alone.
According to the U.S. Department of Agriculture, per-person consumption of milk has decreased by more than 40% in the last 50 years. But, cheese consumption has more than doubled, from about 16 pounds per person in 1977 to more than 35 pounds today.
New York is dairy country and artisan cheesemaking has become an attractive "value added" business for some of the state's dairy farmers. The Murray family of Muranda Cheese had already shifted their focus to cheese when they sold off their Holstein herd in 2019. They now use milk from other local farms to make their cheese, which is aged and wrapped on the property. They are moving production of their cheeses from Cornell University in Ithaca to a plant about 12 miles from the farm.
"We need to be able to make it when we need to,'' owner Tom Murray explained to visitors during a tasting this spring.
The way the Murrays see it, cheese goes hand in hand with the eat local and drink local movement—and has perfect partners in the wines, beers, ciders and spirits that are produced in the Finger Lakes. Visit the farm for a tasting and you'll sample young cheddar, aged cheddars, flavored cheddars, smoked cheddar, Gouda, pungent blue cheese with an edible rind and more. And you'll leave with ideas for serving and cooking with those cheeses. Cranky Old Lady, an aged cheddar, adds spunk to grilled cheese and macaroni and cheese and the Muranda Blue melts nicely on burgers.
Prior to the pandemic, the Finger Lakes Cheese Trail existed to bring the area's cheesemakers together and spotlight them. The trail had more than a dozen members who promoted themselves and their products via on-farm open houses and other events, including the Finger Lakes Cheese Festival, which drew thousands of visitors each year.
The trail has disbanded, but you can still visit cheesemakers, learn about their operations and purchase delicious souvenirs. Don't forget to bring a cooler.
If you're of the belief that everything is better with cheddar – and Gouda and chevre and cheese curds – here are some places (plus a grand cheese event) to check out.
Note: Due to COVID-19, it is highly recommended that you call ahead to confirm hours and availability before visiting any farm or creamery. Groups of six or more are especially advised to call in advance.
Where's the Cheese?
Muranda Cheese
3075 Route 96 South, Waterloo
A cheese immersion experience. Enjoy a glass of wine, beer or cider, sample about a dozen cheeses ($7) and learn what to pair them with and how to use them in cooking. Open 10 a.m. to 5 p.m. daily. The event barn features live music every Sunday afternoon from Memorial Day to Columbus Day. Food trucks are on site and grilled cheese sandwiches made with Muranda cheeses are a popular draw.
• More info: www.murandacheese.com
Lively Run Goat Dairy Farm and Creamery
8978 County Road 142, Interlaken
Sample 10 goat and cow cheeses made on site paired with local products like preserves and honey ($8; free for children aged 12 and younger). Open noon to 5 p.m. daily through October 31.
More info: https://livelyrun.com
Shtayburne Farm
2909 Chase Road, Rock Stream
An old-fashioned working dairy farm offering cheddars, Jack cheeses, plain and flavored cheese curds, homemade ice cream and a variety of other Finger Lakes products. Open 10 a.m. to 5 p.m. Monday to Saturday.
More info: https://fingerlakesdairyfarm.com
Sunset View Creamery
4970 County Road 14, Odessa
The farm specializes in Monterey Jacks (multiple varieties), cheese curds, mozzarella, cheddar-style and Italian-style cheeses made from milk produced on site. Open 3 to 6 p.m. Wednesday to Friday and 10 a.m. to 5 p.m. Saturday and Sunday.
More info: www.sunsetviewcreamery.com/
Side Hill Acres Goat Farm
79 Spencer Road, Candor
A family-owned goat dairy and cheese processing plant offering plain and flavored goat cheese logs, feta logs, feta crumbles, kefir and other products. Open 8 a.m. to 6 p.m. Monday, Wednesday, Friday and Saturday and 8 a.m. to noon on Thursday. Tours available by appointment.
More info:  www.sidehillacres.org/
Golden Age Cheese
1577 Mill St., Woodhull
A family-owned cheesemaker offering mozzarella, young and aged cheddars, plain and flavored cheese curds, smoked cheeses and "grillin' cheese,'' a semi-hard cheese made to stand up to the high temperatures of the grill. Open 9 a.m. to 3:30 p.m. Monday to Friday and 10 a.m. to 3 p.m. Saturday.
More info: https://goldenagecheese.com
Photos: GettyImages (Cheese and wine); Margaret McCormick (Curd Nerd)
---
Central New York
Cheese Trail
The Central New York Cheese Trail launched in 2019 when seven cheesemakers and one butter producer spread across Herkimer, Madison, Otsego and Oneida counties pooled their resources to better promote themselves.
Trail members cover a lot of territory and represent many styles of cheese, from aged cheddars to old-school Port wine cheese spread to feta and other goat milk cheeses.
Bring a cooler, pick up a trail card at any of the participating producers and make a weekend (or more) of it. Complete the entire trail and head home with an insulated tote bag. For more info, visit www.oneidacountytourism.com, then select "what to do" and you'll find a link to Central New York Cheese Trail.
Little Falls Cheese Festival
Can you say cheesy goodness? Dozens of New York state cheesemakers offering more than 100 kinds of cheese will gather on Main Street in Little Falls Oct. 1 (10 a.m. to 5 p.m.). Little Falls is in Herkimer County, just east of Utica. You'll also find gourmet foods, New York State craft beverages, entertainment and food trucks. Tip: Bring a cooler and arrive early for best selection of cheese. For more information, visit www.littlefallscheesefestival.com
Margaret McCormick is a food writer and food blogger in Syracuse.