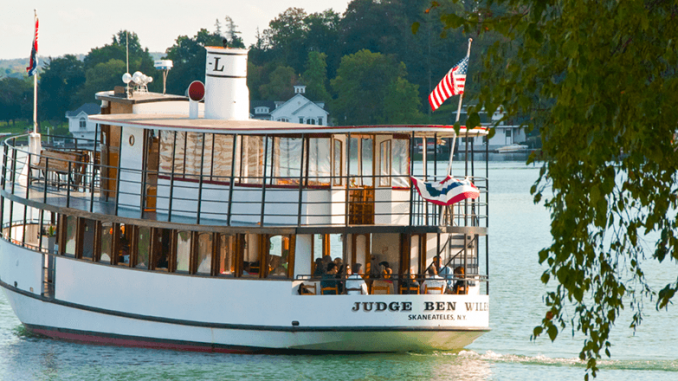 By Deborah Jeanne Sergeant
Instead of dinner and a movie, how about dinner and a cruise? Several tour companies in the region offer boat cruises.
They are:
Mid-Lakes Navigation Co., Ltd.
• Skaneateles
https://midlakesnav.com
It offers two- and three-hour Erie Canal Cruises and Skaneateles Lake cruises through October. The lunch cruises are either Long Lakes Buffet or Dinosaur Bar-B-Que. The sightseeing cruises, ranging from 50 minutes to three hours, include a beverage. The company also offers Moonlight Cruises.
Old Forge Lake Cruises,
• Old Forge
It provides sightseeing cruises, fireworks tours, photography tours (ideal for capturing fall foliage) and its Rail and Cruise: Utica to Thendara, which starts with a train ride on the Adirondack Scenic Railroad from Utica to Thendara, followed by a shuttle to Old Forge. After a two-hour lake cruise, the shuttle returns to town with an hour layover to for a change to walk around town a bit and then a return train ride to Utica. Rail and Cruise events are nine total hours and run on Thursdays and Saturdays from mid-July through mid-October. Cruises are $13 to $84.50.
Lake George Steamboat Company
• Lake George
It provides about a dozen cruises daily, up to six-hour ventures, providing snacks and beverages up to full meals and entertainment and fireworks cruises, too.
Uncle Sam Boat Tours
• Alexandria Bay
These tours have become synonymous with touring the Thousand Islands. Tours range from one to two and a quarter hour sightseeing cruises to meal cruises to craft beer and wine cruises to trips to Singer Castle and shuttles to Boldt Castle on Heart Island.
Captain Bill's Seneca Lake Cruises
• Watkins Glen
www.senecaharborstation.com
It offers the expected meal cruises, entertainment cruises and sightseeing cruises, but also teen-only cruises. For Captain Bill's, meal cruises are self-billed as "destination dining afloat" as a tribute to the ambiance and menu, which includes prime rib, seafood bisque and salmon piccata.
Grand Lady Cruises
• Buffalo
www.grandlady.com
It provides a two-and-a-half-hour dinner cruise with live music and a 90-minute lunch cruise with live narration along the Buffalo River. Both offer three-course meals. There's also non-meal sightseeing cruises, murder mystery dinner cruises and Tap Takeover Cruises, which offer live entertainment, appetizers, and four beer samples, along with a fully stocked cash bar.
Canandaigua Lady
• Canandaigua
www.cdgaboatcruises.com
This is a replica of an old-fashioned double-decker paddlewheel boat, providing meal cruises and sightseeing excursions. Specialty cruises include murder mystery dinner cruises, euchre tournament cruises, children's pirate cruise and fall foliage cruise.
Raquette Lake Navigation Co.
• Raquette Lake
www.raquettelakenavigation.com
Is the clear choice for fall foliage cruises on Raquette Lake, the playground of JP Morgan, Vanderbilt and Huntington. In addition to the usual lunch and dinner cruise, the company also offers a pizza cruise, Sunday brunch, moonlight cruise intimate dining (with limited reservations), and prime rib buffet cruise. Special event cruises are as inexpensive as $5 (Traditional Columbus Day Excursion). Cruises range from 90 minutes to three hours.
Colonial Belle Erie Canal Cruises
• Fairport 
www.colonialbelle.com
Tickets startat a mere $10 for a half-hour sightseeing tour up to a $49 dinner cruise. Their cruise packages also include themed cruises, such as Murder Mystery, Family Pirate Cruise, Adult Pirate Dinner Cruise, Christmas in July, Fairport Music Festival (with live music onboard), Blues, Booze & BBQ, karaoke, painting cruises, fall foliage (departing from Pittsford) and more.