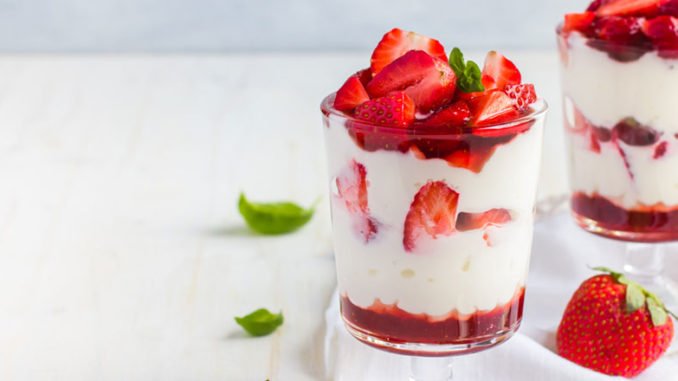 By Melissa Stefanec
Summer and fall offer a bounty of fresh and locally-grown fruits. Here are some fresh and relatively simply recipes to put that bounty to good use.
Greek yogurt pops
Combine two cups of Greek yogurt and one cup of fresh or frozen fruit. Mix in a blender or food processor until smooth. If desired, add one teaspoon vanilla or almond extract. Add three tablespoons honey or agave nectar and mix until just combined. Pour mixture into silicone popsicle molds or small paper cups. If using cups, place popsicle sticks in the middle. Freeze until set and enjoy.
Strawberries and Whipped Mascarpone
Wash, hull and slice one quart of fresh strawberries. Mix with four tablespoons sugar and a dash of salt. Refrigerate for an hour. For the whipped mascarpone, combine 8 ounces of cold mascarpone, one teaspoon vanilla extract, and one cup of chilled whipping cream. Whip with a hand mixer until stiff. Stir in four tablespoons of powdered sugar. Layer strawberries and mascarpone in chilled glasses or chilled mason jars. The whipped mixture will be stabilized and can be stored.
Apple pops
Slice and core four apples, leaving the skin intact. Skewer slices with food-safe sticks (using a firmer apple will make it easier to skewer the fruit). Place fruit in the freezer for 30 minutes. In the microwave, melt 10 to 12 ounces of dark chocolate chips. Microwave chocolate chips in 30-second intervals until chips melt and stir easily. Dip the frozen apples in the chocolate and place on wax paper until chocolate hardens. For an added touch, while chocolate is still soft, roll the coated apple slices in toppings such as crushed nuts, crushed candy or sprinkles.
Baked pear or apple boats
Take an apple and hollow it out from the bottom, making sure to remove all remnants of the core. If using a pear, cut it in half lengthwise and remove the core. Leave the skin on the fruit. Place the apple or pear on a wax paper- or foil-lined cookie sheet. In a bowl, mix three tablespoons of oats, one teaspoon of crushed nuts, 1/4 teaspoon cinnamon, 1/4 teaspoon ginger, and 1 teaspoon coconut oil. Spray fruit lightly with cooking spray. Fill the hollowed fruit with mixture and bake at 350 F. for about 15 minutes, or until apple softens. Serve alone or with whipped cream or ice cream.
Layered Pumpkin Parfaits
Prepare fresh pumpkin puree or use 14 ounces of canned pumpkin. Mix pumpkin with ¼ cup very soft cream cheese. Add two tablespoons of cream and ½ teaspoon pumpkin pie spice. Add ½ cup powdered sugar. Beat with a hand mixer until combined. Layer mixture in glasses or glass jars mixture with cool whip. Serve with ginger snaps.
Fruity Salsa
Dice two to three firm stone fruits such as nectarines, plums, or under-ripe peaches. Finely dice one clove of garlic and one half of a small red onion. Wash and spin four sprigs of fresh cilantro and finely dice. Take four medium-sized tomatillos and dice. Dice one orange, red or yellow pepper. Dice one poblano pepper and one jalapeno, removing the seeds if less spice is desired. Combine the fruits and vegetables in a bowl. Toss with 1/2 teaspoon sugar, 1/2 teaspoon salt, and1 tablespoon rice wine vinegar. Serve with chips. Can also be served with chicken or fish.